EdenFantasys: Halloween Frights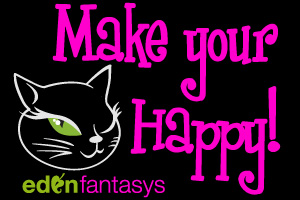 Okies.... Its been some time since i've been on here.
EdenFantasys.com has some of the best Adult products around. Like Dildos, vibrators, sexy lingerie, and.... Halloween costumes. Some to make your blood catch fire and some you could acually wear out to a party. The one I have in mind is the
Voluptuous Vampire
by Coquette. this comes with fangs, and a mesh high collar cape, and a dress( lace, short in front, long in back. black and red, ribbon tie up thing. Quite beautiful.)
oh my...Vampiress.
It has sex appeal but isn't sluttish?( nothing hangs out, i mean. from the look of the model) I don't have this, but i want it, and it it on sale too.
Or, if you want to sail the 7 seas you could go with edenfantasys.com's Pirate wench costume. tis costume features a rigid lace crop top, a brocade and lace dress. a hat, and a sword. this is on sale too, but out of stock at the moment. I guess it is a zip close kind of thing, with plastic boning. Did I mention an elegant hat, which looks to have some lace and brocade of it's own.
There are others that I have not mentoned that you can find at
edenfantasys.com
.